Mobile defense is a little Google Android cell phone tracking app developed by Mobile defense. iPhone users have Find My iPhone, and finally, Android users could have their mobile tracking software.
Like other mobile tracing software, you need to download a small program from their website to your Android mobile device and install it, also you need to register with them and you will get your account details send via SMS. Please note that you have to activate it after finish installing by clicking on a link sent to your Email address, otherwise it will remain dormant. That is, it won't work at all.
While running, mobile defense icon does not show, it runs in the background, and you can simply forget it. So if someone has no idea about mobile defense get your handset would not notice it, so the chance for him/her to remove the app from your handset is very thin. I personally think this is a great feature for mobile tracing apps, if the thief removes the app, there is no chance you could get it back.
If you lost your handset, you can log in to their website with your account details, and Mobile defense will connect to your handset within 30 seconds. It uses GPS, cell towers and WiFi to locate your mobile device. Once connected, you can see the location of your handset on Google Maps.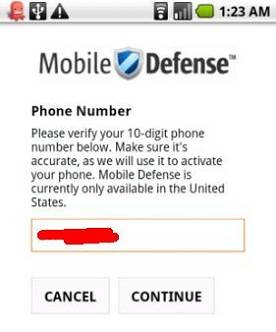 You can then send an alert to your handset, or display a custom message, you can also lock your handset to protect your privacy, other services are provided to subscriptions.
Unlike other LBS apps designed to share your location with friends, Mobile defense sounds more like a mobile tracking app. It has some features intend to find your lost/stolen mobile devices. Even if you could not get it back, you can still wipe out your private data remotely and lock it down. It works like Find My iPhone and HTCsense service (it's available to HTC Android devices only) in a few ways.
There are already a few stories out there that people get their iPhone back using Find My iPhone. Fortunately there are also a few successful stories out there that people get their handsets back by using Mobile defense. One of them is a man left his handset on a train, he did not realize it until he got home. So he logged into Mobile defense website immediately and found that his phone was still on the train about ten miles away. He finally managed to get there and got his mobile device back. So if you have an Android handset, it is highly recommended to install this little mobile tracking software as it is free!
| Category: | Tags: