Posted by
filed under
Without a doubt, mobile tracking technology could help people find their lost or stolen handset. Giving that WiFi and cell tower positioning technology have already been integrated in the location based services, we can obtain the location information of a mobile device easily without GPS. However, imagine when a stolen cell phone is found to be in a building or a park, how could we tell who get the missing mobile device?
Laptop anti-theft programs would use the front camera to take screenshots of whoever use it, and these pictures could be used to identify the thief. We can even get to know the thief's Gmail, Twitter or Facebook account. And this is how Joshua got his stolen MacBook back.
Well a recently released app called GotYa! could do the same thing for your Android phone. Once you install and activate it, the app will take a picture of the user using Android device front camera whenever there is incorrect screen lock entered, of course you need to enable the in-built screen lock first. Well I personally think the app should take a few more screenshots, not just the people who use it, but also the phone screen, as it could provide more information such as Email address or social website account.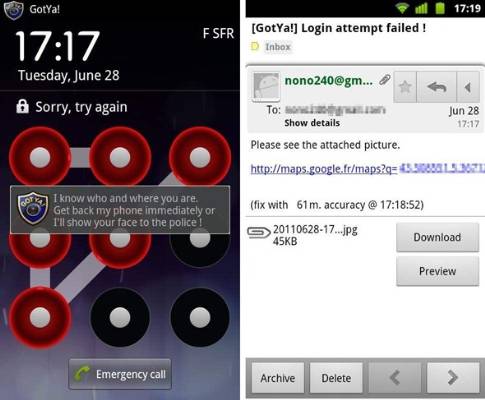 The app comes in two version, limited free version and full paid version. The paid version takes higher resolution pictures and does not have the big watermark which would otherwise appear on the screenshot taken by the free version. In addition, you can request remotely location information, call back, and alarm sound with the paid version via SMS. To be honest, the free version does not even worth a try at all.
The screenshot comes with GEO-TAG information and produces a link to its location on Google Maps, which will then be sent to the given email address as well as Facebook.
Unlike other mobile tracing apps which allow you to view real-time location and control the missing phone remotely online, the app only produce Google Maps links and receive SMS commands. Furthermore, you could not do a remote lock or wipe out. So if you could not get your handset back, your personal information may not be safe any longer.
The app is now available on Android market at $1.99 USD and has already received lots of good reviews. But I just could not locate the free version however hard I try. Well if you are interested, you can find the paid version here.