Posted by
filed under
If you have an Android device, it may not be so easy to choose a location and anti-theft app appropriate for your needs. It seems to me that Android location app is coming out every day, with most of them have the same basic location tracking functionality, some have more handy and practical features.
To help you choose the right app, I have compiled a list of the best Android tracing software. Most of them are free to use, while a few are still unknown as they are in beta.
Norton Mobile Security
As the leading PC anti-virus software company, Norton entered the mobile industry long ago. This time it brings us its Android mobile security app, it's handy and powerful. As a mobile security app, it lets you scan your Android device for malware and block unwanted incoming calls and SMSs in addition to remote locate your missing or stolen phone. If you could not recover it, you can use the remote lock and wipe to save your data and private information.
The setup process is quite easy, you just have to hit a few buttons and enter a pass code. It does not have web based control panel, so you have to use SMS commands to locate and lock your missing handset. However it works exactly as it should..
Norton security is compatible with Android 2.2+, however it's not free! It costs $36 after the trial period, which is way too expensive. If you could afford that kind of amount and need its anti-virus and call&SMS blocking functions, it's a good option.
Plan B
We have already introduced Plan B, in case you do not see it, find it here.
Plan B allows you to remotely install it onto your missing Android device, which means you need a Gmail account to log in to Android market and you can install the app after your handset goes missing.
It comes in two versions, free and paid. Free version does not include remote lock and wipe while you can still locate and play sound. Like Norton mobile security, it's more than a location tracking app. However, it only charges $2.99 monthly and $29.99 annually, which is lower than the former.
If you also need its security functions, it may be worthwhile to pay the amount. However if you just look for location tracking and securing capabilities for your phone, there are always other options.
AndroidLost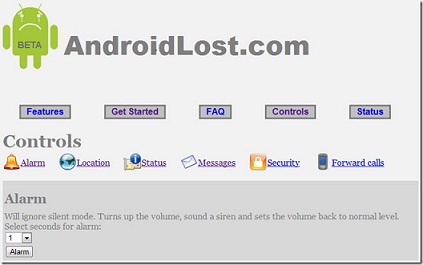 AndroidLost is designed for one single purpose: help find your lost Android device. However it offers some neat features compared to other Android location tracing apps.
AndroidLost does not require pre-install, which makes it somewhat like Plan B. But it has more functions, and for free. Once your handset goes missing, you can not only view its current location on Google Maps, play a alarm, remote lock and wipe it, but it also lets you read the status of your handset such ass battery use, IMEI number, SIM card ID.
What's more, you can remotely read the call log and short messages on the phone, or forward your call to another handset. You can even use the front camera to capture a picture of the person who uses your mobile device (Android 2.3 only) so that you can identify him/her once you get close to the area.
AndroidLost provides two ways to use it, browser based interface and SMS commands. If you prefer former, you need to sign in to their website use the very same Gmail account you log in to Android market.
This is an ideal location tracking software for Android, in our test most of its features worked like a charm. Since it's free, I recommend it.
Phone Lock & Tracker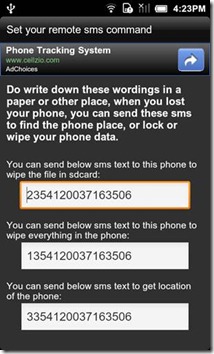 This app is extremely simple with no additional capabilities other than what it says by name. The setup requires administrator privilege, otherwise it won't work correctly.
Once the setup is finished, you can use SMS commands to locate or wipe your cell phone, no web based control.
One thing worth noting is that if the incorrect password is entered several times (depending on your settings) either by you or others, it will remove everything from your handset, including the MicroSD card.
Although this app stands out because of its simplicity, it may lack some important functionality. As you can only control your handset wirelessly, it's only normal sometimes the app won't respond to your commands. If this really happens, there is nothing you can do. But if you want to check it out, find it here in Android market.
Remote Ringer
By name, remote ringer has something to do with mobile device mode and this is exactly what the app does. Sometimes you leave your phone somewhere in silent mode, there is no way you can find it by calling it using another handset.
With this app, you have to enter an authorized number and secret code during the setup process. Next time you forget to turn on the ringer mode, you can easily enable it.
Well this isn't something new, HTC cloud service has the same feature long ago and you can always use our cell phone finder if you do not have any other handset.
There's always more
If you find none of the above apps meet your requirements, I have already reviewed on my blog many mobile tracking software for Android, like Glympse, mobile defense etc, you can always find them and more mobile tracing apps here.