Posted by
filed under
Glympse is a piece of free GPS cell phone tracking app help to locate your handset. With Glympse, unlike other mobile tracing software, you do not have to register an account with them; all you need is a desktop or a laptop with internet connection to view the position of the person being tracked on a map.
Glympse Features
– Free to use, you do not need to get an account, just download and install a little app on your handset.
– Decide on who and how long they can track you, like 30 minutes or an hour. After the giving time, people will not be able to view your position.
– You just need to send a link via SMS or Email to others for them to view your location. If the time expires, the link will become invalid and people will not be able to use it again, so your privacy is protected.
– Glympse is more accurate than Google Latitude; the accuracy is within a few hundred feet while Google Latitude has an accuracy of half a mile.
– Glympse can calculate your speed and give the expected arrival time depending on local traffic situation. While the in-built GPS chip could calculate your speed as well, but Glympse will update your speed and expected arrival time from time to time while your speed changes.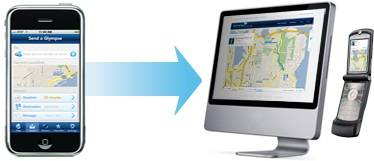 With Glympse, you simply send a link to your friends, parents or coworkers, and they can view your position on a map from either a mobile device or a PC. They do not need to install any program into their laptops in order to track your location. And you can decide on who will be able to see your location and how long that link will expire, so it will not cause any privacy issues. Everything is under your control.
Many other mobile tracing apps require people to register an account with them, this will definitely limit the number of people you can share your whereabouts. However you do not have to ask people to sign up in order to simply know where you are.
Glympse is one of the best mobile tracing software out there, and it's quite simple to use. Currently it supports Google Android handsets, Apple iPhone and Windows Mobile Smartphone, and it is to support Blackberry and Palm in the future.
You can get more information here. If you have an iOS device, check it out here. For Android, it can be found here.
Meantime, check out this video below.
If you want to try more mobile phone location software, you can check another post of mine introducing some of the best FREE cell phone tracking apps. These apps are also features rich, and if unfortunately Glympse is not available for your mobile, there may be one that could work with your handset. If you are looking for more options, you surely do not want to miss them.
Update, Glympse has added real time location sharing service to Facebook pages. In the past, you can only send the link via SMS, Email or Tweet, but now, you are able to share that link on your Facebook page.