Posted by
filed under
Apple, the mobile device industry newcomer yet the most successful Smartphone maker launched its iOS device lost and found service and app Find My iPhone long ago. Microsoft also released its own data sync and location service My Phone for its not so successful Smartphone Windows Mobile. But RIM, the famous business brand has not announced related security service for its devices until last June. It's not called Find My BlackBerry, however. Its name actually is BlackBerry Protect. Although the name is quite different, but the features are more or less the same as Find My iPhone.
BlackBerry used to be the best option for businesses, and security is vital for its mobile devices. As a matter of fact, BlackBerry devices are famous for its high security features. BlackBerry Smartphones are widely used in US government and congress, president Obama also use BlackBerry for sending Emails. For the same reason, BlackBerry devices became the primary target of mobile device thefts. So RIM needs a security solution urgently for its consumers and businesses to address the concerns.
Amid the various needs, BlackBerry Protect is intended to provide data backup, location and remote wipe out services to families and small businesses.
Backup and restore your data
BlackBerry Protect backups your contacts, text messages, bookmarks, memos and other data automatically every day, or every week or every month depending on your preferences. If you already make a backup, the next ones only backup data changed since previous backup. If you lose any information or purchase a new BlackBerry phone, you can restore your backup easily.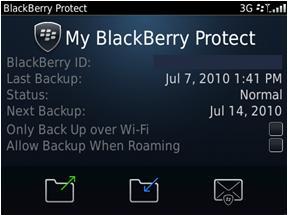 Track your BlackBerry mobile phone
If you misplace or lose your device, you can sign in to their website using your BlackBerry ID and locate it. You can view the location on a map, play a sound or send and display a message remotely on your handset even in silent mode, which is like HTCsense. If unfortunately you could not find your handset, you can set a password to lock it, and wipe out your private information remotely.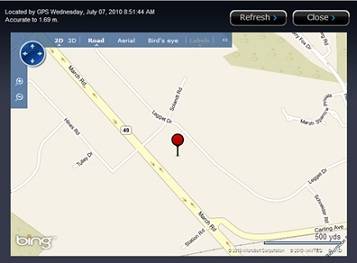 If your handset has built-in GPS, the location information will be much more accurate than using cell towers. Well it's not hard to understand. However as more sensors like accelerometer, compass, and gyroscope are integrated into Smartphones, it can return more accurate results as those sensors can obtain information about where the user is heading and the speed etc.
To be honest, all these features seem very similar with Find My iPhone. However it's provided to customers at no cost, while Apple used to charge $99 for a full year although now free for iOS 4+.
BlackBerry Protect is now available in North America, EU, Australia and New Zealand etc. If you have BlackBerry cell phone, you can download it here and start to enjoy Find My BlackBerry now.