Posted by
filed under
Three days ago, Facebook announced that its LBS (location based service) app place and groups are coming to Android mobile device, and its location API is opening up, which means other apps can use its API and provide location sharing features as well.
Facebook place, like Google latitude and Foursquare, lets its users share and view locations among their friends. Half a year ago, it's reported that Facebook added some JavaScript file in its sub domain http://touch.facebook.com which would let iPhone and Android device users to share their geographic locations include latitude, longitude, altitude and speed, in other words, you can keep track of your friends' locations with cell phones.
Facebook included this service in its apps for iPhone with the popular check-in since, and its latest version is 3.3.1 which supports English, Chinese, French, German, Japanese etc. But Facebook did not release its Android version in the past few months until Nov 3, 2010.
Facebook place for Android has single sine-on, you only have to sine in once and other apps will come to know that you are already logged in, and then you need not to sign in again.
However, Facebook CEO Mark Zuckerberg said they have no plans to develop Facebook cell phone.
Update, Facebook location based service Place seems rather moderate, not many people use it to check in or talk about it. On the contrary, Foursquare is very popular and is gathering users. Facebook needs to come up with something that could attract peoples' attention.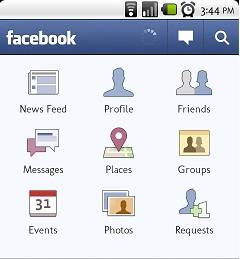 Update 2, about two months ago, rumors had it that the first Facebook handset is to be unveiled; it will come with two models, made by the Taiwan based mobile device maker HTC. Facebook mobile phone running Android and will have in-built Facebook app. But two months past, there is still no news, a post from a Chinese blog tech2ipo.com said the author had a Facebook Smartphone four days ago, it is a combination of Facebook + Spotify + Android. But again, the news was not confirmed.
We will update you on future news about Facebook mobile phone and Place.