Posted by
filed under
When Apple rolls out iOS5, its new LBS app also becomes available. The new app, which is called Find My Friends, is compatible with iPhone, iPad and iPod running iOS 5. Unlike Find My iPhone – which is used to locate your own iOS device, Find My Friends lets you share your whereabouts with your friends and vice versa. Meantime, parents can use this app to keep track of the activities of their kids as well.
As a matter of fact, Google has already released similar service and I have been using it for a while – Google Latitude. Find My Friends is pretty much like Google Latitude, with some improvements. If you are familiar with Google Latitude, Find My Friends won't soud strange to you.
Find My Friends is part of Apple's new cloud based service iCloud (Still remember MobileMe?). In order to use Find My Friends, users need to upgrade to iOS 5 and download the app from App Store here. Once the download is complete, you can sign in using your Apple ID.
Now you are ready to add friends and its quite simple. Just send a request to your friends via Email, and yes you need to know their Apple ID first. Once your friends accept your request, you will be able to track him / her. But your friend needs to send another request to you in order for you to share your location information.
Find My Friends use in-built GPS to obtain your location information, so you need to left it on. As GPS and internet connection could drain cell phone battery quickly, I do not think the iPhone could last long running the app.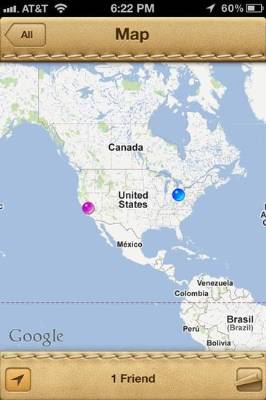 Find My Friends also does a good job in protecting user privacy. With Google Latitude, you can decide on who to share your whereabouts and the level of it (either exact address or city level or enter a location manually). Find My Friends does all of that, in addition, it allows you to set a period of time to how long others can see your location. As you can trace multiple iOS devices at the same time, this is extremely useful when people have a temporary get-together.
Parents can also use Find My Friends to keep track of their kids for free. Yes, free. In the past, parents need to use similar paid service like Verizon family locator; Sprint family locator and ATT familymap and they are all charged on a monthly basis. Now parents can use Fine My Friends in stead, unless the kid learns how to jailbreak the device.
Find My Friends only works on iOS devices, while you can use Google latitude from any PC, Android or iOS handset. However Google latitude iOS version really sucks and I prefer Find My Friends. However, it still faces strong competition from Foursquare as LBS service.