Posted by
filed under
SOS Tracker is a free GPS location app running on Nokia and BlackBerry cell phones. It turns you GPS enabled handset into a personal GPS tracking device. Featuring GPS tracking, SOS Button and Remote Request, SOS Tracker works great to protect its users.
SOS tracker features:
-Deliver your location information to anyone you wish. It can send your GPS coordinates via SMS to any given number by pressing the OK key for three seconds if you run into an emergency, so the receiver can know where you are or view your location on Google Maps.
-Send a 'Here I'm' message. It allows you to send a SMS with your GPS coordinates (latitude/longitude) when in non-emergency situations, now your friends will know your whereabouts and you may have a get-together.
-Send a remote request. It can also send a remote quest to obtain others' position with permission in advance. Once receive the message sent by your friends, you can see his/her location on a map.
SOS tracker does a good job when it comes to privacy. Your location is known to yourself unless you send a here I am message or a SOS, and you can decide on who can send a request to you. You can even turn off the remote request so it needs your approval every time you receive a request for your location.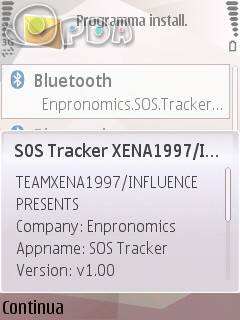 SOS tracker could run on Symbian, Windows Mobile and Java ME platforms. Although iPhone and large screen Android cell phones are very popular around the world, this app is not available to them. Apparently, it lacks support for modern Smartphones.
Compared to other LBS apps, SOS tracker really lags behind. In order to increase its user base, it should catch up with others in order to compete or make more attractive apps. But it definitely reminds me of the days when Nokia was the largest mobile device maker.
SOS tracker have some of the basic capabilities of a mobile tracing app, but it can not be used to locate a mobile device, so there is still room for improvements. As a LBS app, however, it does a good job.
At the moment SOS tracker supports Blackberry, Symbian cell phones. And they offer a limited time free trial (OMG it requires subscription in a world full of free apps). However, you need to be a company client to try their service for free. Because of that I was unable to test their app.
At the end, I have to conclude that SOS tracker is kind of outdated. They may just want to serve the corporate customers with Symbian or BlackBerry phones, which are to disappear from the market soon!
| Category: | Tags: