Posted by
filed under
GPSed is a free cell phone tracking system widely used in 191 countries (according to the description of the official website) to track trips, people and vehicles. Like other mobile tracing apps, it has many handy features, and you won't find anything missing.
Here are the official listed Features:
-Map GPS tracks from cell phones and even attach pictures. Wherever you go, you can use GPSed to track your trip on Google Maps or Google Earth with your GPS enabled mobile device or an external GPS receiver like Bluetooth GPS receiver.
-Share your whereabouts with your friends and family. You can use email or text message to share with friends your pictures with GPS coordinates, you can even post them to Facebook, MySpace and Twitter so people will get to know where you have been, and even view the exact location on Google Maps.
-Track vehicles fleet or members of your family in real-time. You can use GPSed to locate the old, children and fleets to get peace of mind. Their basic version is free. What's more, you can enjoy a 30-day free trial at the moment for full version. You do not have to pay if you are not fully satisfied with it.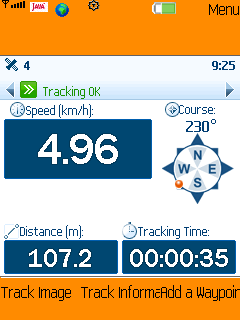 Other features include instant update and alerts, real-time status and track multiple objects at the same time. Other features can be found here. All in all, GPSed is a powerful mobile locating app in terms of its capabilities and features.
GPSed currently supports iPhone, Blackberry, Windows Mobile and Symbian. For those who are interested, you can download their little tracking app here. However they don't have any Android version app, this is kind of strange since Android now is the most popular mobile OS in the market.
Since there is no Android version, I tried their free .jar version on my Samsung I8910 running Symbian S60V5. It takes about 7 seconds to download the app via WiFi, and the installation is fast as well. However the UI is ugly compared to that of .sis app. If you ever install java app, you know half of the screen is occupied by five buttons with four huge letters. The app consistently says unable to find any GPS receiver although I do have GPS turned on and connected to the satellites (I use GPS to pinpoint my location on Google Maps with no problem, and InstaMapper works great too. Update, InstaMapper now closed). I close the app and relaunch it, still no luck. Finally I remove the app from my phone and make a fresh install, it still could not find the GPS receiver.
I do not know how it works on other mobile platforms, but GPSed's not so good when it comes to Symbian OS. If the app could not pinpoint your location, how can you expect it to share your location or track your handset?
If GPSed does not work for you, or you just do not like it for whatever reason, you still have other options. We have introduced some of the best free cell phone tracking software for handsets running various mobile platforms. So if you are still looking for one, we strongly suggest you check them out here.
If you have any question about GPSed or other mobile locating apps, please contact us at info @ cellphonetrackers.org or follow us on Facebook.
| Category: | Tags: