Posted by
filed under
Google Earth is one of the remarkable creations by Google. With a free version you can enjoy some interesting functionalities. However you can only install it on your desktop or laptop in the past, now Google Earth for mobile device is available, this makes tracking a cell phone location on Google Earth from your handset become a reality.
In case you do not know how to play with Google earth yet, there's a nice video on Youtube which you can watch here.
The features of Google Earth mobile version:
– Explore in 3D. View the same 3D imagery and terrain available captured by the satellites.
– My Location. Fly to your current location with the touch of a button.
– Multi-touch. Pan, zoom, and tilt your view as you travel the globe.
– Local search. Search for cities, places, and businesses around the world with Google local search.
– Search by voice. Speak your queries in English, Mandarin, or Japanese.
– Layers. View layers of geographic information including roads, borders, Panoramio photos, and more.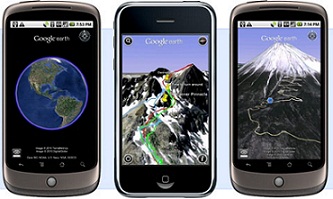 Google Earth mobile version is currently available both in Google Play store and Apple App Store, it's terrific to use it to explore cities and unknown areas, especially 3D models of buildings.
On a side note, you need Google Play services to run Google Earth on your Android phone. Also the latest version seems to have issues with displaying 3D models.