Posted by
filed under
Since its release, Google latitude has received well recognition as a free cell phone GPS tracking app for Android, Blackberry, S60, iPhone and Windows Mobile devices.
Google latitude let you share your location information to your friends and family on Google Maps so that they can track your location.
In order to use Google latitude, you need to point your mobile web browser to http://google.com/latitude and download the latest version of Google Maps (this feature was added in V3.0), enable Google latitude and sign in with your Google account.
In order to locate someone, you need to approve incoming friend request. On the other hand, you can choose your friend or family from your Email contact list, once they approve your request; you can start to view their exact locations on Google Maps from your handset.
Google latitude determines your location by GPS which offers more exact location information or the nearest cell towers which have an accuracy of a few miles. However, you can always allow certain friends to see your city only if you wish to hide your exact place and street from them. If Google latitude fails to determine your location, you can set any place as your location by entering a place or post code, and your friends can see this location as well.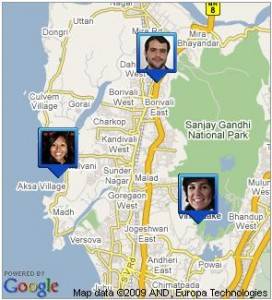 Google Maps requires mobile internet to update your location from time to time, which means it's a data intensive app and can drains your battery very quickly. However you can integrate Google latitude to iGoogle and track your friends or kids on your PC.
Update, now Google latitude for iOS allows you to check-in and share it with your Latitude friends or on the web, either on your Google profile, or Google Buzz. Meanwhile Google Maps for Android phones adds the check-in feature. Now you can earn special statuses if you frequently check in your favorite places, and you can become a VIP or a Guru in it.
Update, Google company announced that Google Latitude is to be closed by 9th August 2013, including the website, mobile apps and APIs etc. Users won't be able to view friend's location or checkin after that. Related services will be integrated into Google Plus. Following the shutdown of Google Reader, this is another popular project to be closed among many to come.
| Category: | Tags: