Posted by
filed under
A short while after Google Maps 5.2 hit the Android market last month, Google Maps 5.3 for Android was lunched yesterday, featuring location history dashboard, check-in at home and add your opinion when review a place.
Location history dashboard
If you enabled location history, you will be able to see your past route, the most frequently visited place, and the time spent at home, at work or hang out. Now you can plan your route and trip carefully to save time.
If you have not enabled location history, it's easy. Simply enable it from your computer or mobile device under settings in Google Latitude, and it's private. You can remove any location history anytime, or correct the estimated location of your home or company.
Location history dashboard facilities the work or managing your past locations, you can even see an interesting trend of your location and time.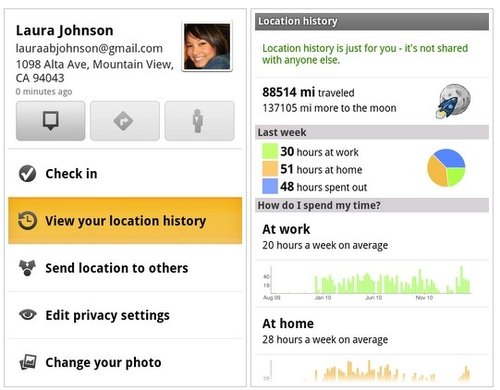 Check in at home
Since you can see how much time you spend at home, you may want your friends to know that you are home. Google Latitude enables you check in and share with friends when you arrive at a place like a park, or Starbucks; you may wish them to know that you get home safely. Now you can check in at home with Google Latitude.
If you do not see the place of your home, you can tap Home to guess your home address or enter it manually. Once you set it, you can enable automatic check-in at home.
Your privacy is respected. No one can search and find the address of your home, and only you can check-in at your home. You can also choose who to share your home check in include your name and home address.
Adding reviews on a place
If you review a place on Google Maps using Google Places with Hotpot, you can leave your opinion or comment in it quickly, for example, music, or food etc. In the past, you can see reviews on places on Google Maps, now you can add yours.
If you find some places interesting, you can leave a comment and share with others.
If you are running Android 1.6 or later, you can download the latest version of Google Maps and Google Latitude from the Android Market.
Google is adding more features to its maps service for Android Smartphone for better user experiences. Last December Google enabled offline maps for Android, which allows uses to store the maps of their most viewed places in cache, so users can see them even without mobile internet. This will certainly boost up the battery life if users use Google Maps frequently. But if you go to a new city for the first time, you need internet connection to run Google Maps.
However it's unknown if these features will come to iPhone/iPad, news said Apple was hiring maps engineers, insiders say Apple will develop its own map service and may ditch Google Maps for iOS. Still it's uncertain if these features will appear on other platforms like Windows Phone 7 and Symbian.