Posted by
filed under
You can see often GPS data loggers out there that can record your track, time and location for viewing on application such as Google Earth. They are actually GPS units which mean you need to spend extra money to record your trips. However if you have a BlackBerry cell phone with OS 4.2.1 or higher, you can try a FREE mobile device GPS logger tested successfully by other BlackBerry users.
This GPS logger, as the website stated, is a pretty straightforward application. It records your physical movement on your BB device over time, including elevation, speed, and some additional data. GPS Logger can also direct you to a location that you either entered manually or have previously recorded. What's more important is that it works completely offline – no data will be transferred while you use it.
It can record and store various information include longitude/latitude, altitude, Speed, number of satellites you connected to. It also can show the data in a number of ways include path view, elevation view, speed view, GPS view, time view, compass view and direction view. And you can even send the data to your friends via SMS and Email. Finally, you can export the tracks into CSV, GPX, KML files, which means you can view the tracks in Google Earth. And, you can import a GPX or KML file as well.
The GPS logger has a few other small features which could facilitates your normal operations, including zooming in/out for path, distance peep/vibrates, wildlife tracking/recording, night mode etc. It can also display your previous recording to save you time. These are not outstanding features, but you will find they make your daily operations easier and can save a lot of time. These features are part of an app, detail is devil.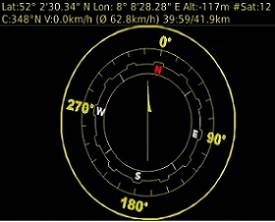 Full details about this GPS logger can be found here, you can download it to your Blackberry device either via "over the air" or via RIM Desktop Manager.
Although the app is free, if you want to support its future development, you could make a donation of any amount (five currencies are available via PayPal), this could make the app better.