Posted by
filed under
Let's start with the news that people can spy on an Android phone even when the handset is shut down. In fact, I have shared the news on Google Plus and here is the link if you have not heard of it. You should not be panic although it does sound a bit of scary. There are a few things need to be done in order to turn an Android phone into a spy device, as noted by ryan moreno.
1. The phone needs to be rooted.
2. The phone has Android 4.4.4 or ealier.
3. The phone should be able to install apps from app stores other than Google Play, in other words, unkown source checked.
That's too much? Well according to AVG, some 10 thousand of phones have been infected and most of them are in China. That sounds only reasonable as Google Play has been blocked and many local app stores are very popular.
A few days later, the news come out that the same might happen in iOS device too, but it's good news this time. According to a new Apple patent, people will be able to track their iOS devices even when it's turned off! This is definitely good news for Apple fans and a step forward in Apple's anti-theft effort if Apple does introduce it in future iOS versions. According to the patent, users will be able to track an iOS device in sleep mode. The device will send out pictures of its current user and location data periodically in such mode. Apple may also ask for the passcode to turn off any iOS device, the device will enter sleep mode automatically if a wrong passcode(s) is entered. But I suppose the handset should not be unlocked when the thief gets it. Now let's take a look at what Apple has done these years to protect their customers' iOS devices.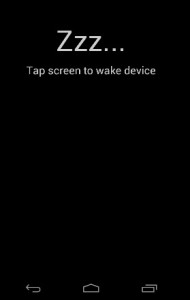 Apple is not only the first to announce a modern Smartphone, but also the very first to develop a phone tracking app-Find My iPhone. However the first iteration of Find My iPhone is far from perfect. It could pinpoint a phone, it allowed an iOS device to be remotely locked or wiped, or display a message, but no more. I of course knew you can play a sound, but it's nothing new since you can call it using another phone too.
And that's why I wrote how to stop Find My iPhone working, and I also mentioned a few things Plan B should be doing in this post, well that should apply to iOS too.
To my surprise, Apple has improved Find My iPhone dramatically since then although I seldom see any such effort on Google or Android OEM's side.
As we all know, you need a tracking app running in the background all the time with internet connection in order to track a cell phone. That means a few things I would outline below.
1. The phone needs to stay on. No one should be able to turn it off or take out the battery. The battery should not go dead, but it's kind of impossible, well as long as possible then, or charge itself.
2. The app needs to be running all the time. No one should be able to kill it or uninstall it in any way.
3. Internet connection should be available all the time, either cell data or WiFi. I personally think cell data is more reliable. I also think the app should send the LAC and CellID to the server in case there is no internet connection.
Well those are what Apple has done if you know Find My iPhone well, at least partly. If you have an iPhone with the latest software, you know no body could turn off Find My iPhone or change the Apple ID without the correct passcode. Even if the thief wants to perform a factory restore or flash the phone, the activation lock is in place to stop that. In a word, even if its owner could not get it back, activation lock will make it totally unusable.
According to the Independent, the new Find My iPhone and activation lock already cut iPhone theft in half. With the new patent now, the chance of recovering a lost iPhone would increase.
What's next?
Although I think Apple will use the companion core to do the tracking thing in sleep mode to save power, it's still necessary to extend the battery life overall. The best option would be increasing the battery capacity at the moment, it makes sense when you consider the iPhone 6, a 4.7′ phone with a merely 1810mAh battery.
Ref. Find My iPhone change log, activation lock.