Posted by
filed under
Since Apple released Find My iPhone/iPad/iPod touch, stories about people recovered their iOS device are everywhere. Here are two of them.
1 According to Straits Times, one Singapore woman was robbed and lost her iPhone, and Singapore police got her handset back within 48 hours and arrested the robber with the help of Find My iPhone.
2 According to Weiphone.com, a Texas user's car was stolen one morning with his iPhone left in the car, so he called the police and located his handset using Find My iPhone. So the police arrested the suspects, but one escaped and drove away his car. Again he tracked his handset location, and the traffic cops arrested the man on highway. Fortunately he got his car and mobile device back.
Well they won't be so lucky if the robber/thief knew how to disable Find My iPhone or at least be aware that they should do so.
Find My iPhone could help you find your misplaced iPhone, or remotely wipe out your private information, but when it comes to recover the lost/stolen iOS device, there are a lot of improvements to be made. So let's see how we could stop Find My iPhone from tracking the device location.
1 In most cases, when you could not find your iPhone, the first action would be log into me.com and play a sound or send a message to your handset asking the finder to call a number, but sometimes it could take more than a minute for the message to arrive. Although you just need slide to unlock iPhone, but sometimes a password is required depending on your settings. And what's more, once you tap OK, the message disappears. Even if the finder want to return your handset (keep in mind this does not work if the finder is not willing to return it), he/she does not know what number to call. So maybe Apple should save the message in memory as a text message.

2 As we all know, you need an Apple ID and password to enable Find My iPhone. But if you do not set a password lock, anyone with basic knowledge of Find My iOS device could easily switch off it or delete your MobileMe account. This way, even if you log into me.com, you will simply find "Find My iPhone is not enabled."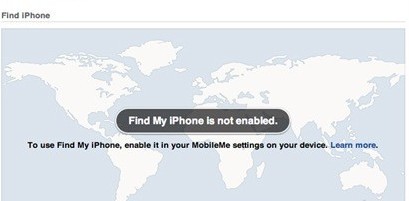 3 Although Find My iPhone still works even if the thief change the SIM card, but if he/she takes out the SIM card, or does not let iPad WiFi version connect to any WiFi network, Find My iPhone will stop working.
It also means if the thief switches off your iOS device, there is no chance for you to locate it. Although it's very rare, but it shows what an awkward situation all cell phone tracking software are facing.
4 Even if the thief does not know how to disable Find My iPhone, he could simply restore factory settings or format the device, this way, MobileMe account information will be deleted and Find My iPhone will be disabled.
Someone may say that the password will prevent the thief restoring factory settings or formatting your device, however, if you hold both power and home buttons for ten (10) seconds and then release the power button, iPhone will enter duff mode. No password is needed.
After restoring or formatting, you could only find the last known location of your iPhone before formatting, you could no longer send a password lock or send a message to it, and every effort is in vain.
I am not discouraging people from using Find My iPhone, especially after it turned free. After all, it helped many get their expensive device back. But there is still room for improvements, if Apple really wants to provide a powerful tool to help their users to protect their iOS devices, they should make constant efforts to make it better. And as the end users, we should learn how to make the most out of Find My iPhone.