Posted by
filed under
Map My Tracks is a free real-time cell phone GPS tracking software. Anyone with a GPS enabled cell phone or a handset with an external GPS receiver (for example Bluetooth GPS receiver) could map and pinpoint cell phone location in real-time. It also lets you share your tracks with your friends or family.
This app can upload your GPS coordinates directly to your personal activity log on the web for future use. Tracks can be made private for your own use or left public, it's all up to you.
Features:
-Track your journey in real-time with your cell phone wherever you are, it's simple and easy to use.
-Allow friends or family to view your progress live so that they will know what you are up to.
-Automatically upload GPS coordinates to your activity log which allows access them from anywhere around the world.
-Replay your tracks over layed on street or satellite maps for later review.
-Analyze distance, top speed, average speed, direction, and show your current location, get a clear picture about your route.
-Discover new tracks or training routes around the World and share them to your friends.
-Share and review tracks by others, get to know what others think about it.
-Share your location on Twitter and Friend Feed with your friends for easy access.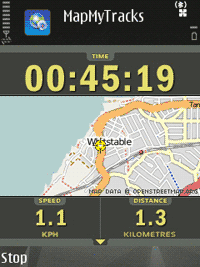 Map My Tracks is one of the best location based apps, it really does what it should if you are interested. It does support touchscreen phone like iPhone 3GS and iPhone 4 etc. But Android phone and Symbian S60V5 phone are not supported at the moment. For other Nokia and Samsung phones, they do have a Java version.
I could not test their app either on my Symbian phone or Android phone which are what I currently own, so I do not know how well it works. If you have any feedback about it, contact me via the about page.
For more information about Map My Tracks, features and what it can do for you, visit the official website and start to make progresses and share with friends and family members.