Posted by
filed under
InstaMapper's closed, it may come back in 2013, thanks for your company these years!!
InstaMapper offers free real-time cell phone tracing services to GPS enabled mobile users. With InstaMapper, you can track anyone online or share your whereabouts to friends.
The whole setup process can be as easy as three steps. First, sign up and get a free account. Then download their little application to your handset and install it, and now you can start to locate your handset or journey. Below is a step by step guide.
-Sign up with InstaMapper. You can go here and enter your username, password and a valid email to create an account. Once confirm your Email address, you will find a device key after signing in. Please keep the 13-digit device key assigned to your handset for future use.
–Install the application. At the moment InstaMapper supports iPhone (download the app from App store), Android (download from play store), Blackberry (download from BlackBerry App World) and Motorola iDEN, for other feature phones, you can get the apps here[link down]. Download the app to your handset and install it.
–Start up and log in. After installing the little app, run it and enter the device key from the first step and save the settings. Now sign in to your account and check your cell phone location on Google Maps.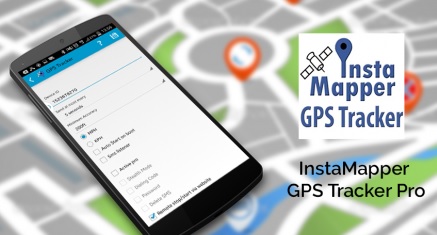 Once you have finished above steps, InstaMapper starts to track your handset, tap the icon and it shows your location information in a short while, including latitude, longitude, altitude, speed etc. The app itself is quite simple, it does not come with any map, so you need to login to their website to view your handset's location. You can also change the settings, but there really isn't much to change, you can just leave them at default values.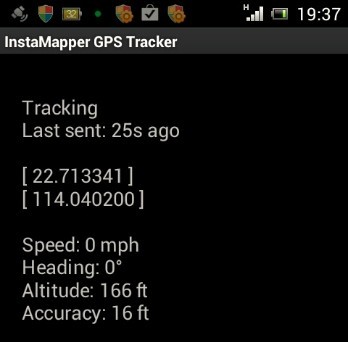 You can share your whereabouts with your friends too. It's available in a few ways. You can send a link to your friends, when they click on the link (there are two types of link, one for PC and one for your handset), they will be able to view your location. You can also choose to share your location on Facebook. In order to do so, you need to download their app for Facebook, then use the Facebook tracking key to embed the map. If you have a website or a blog, you can embed the map as well.
InstaMapper uses GPS solely to pinpoint your phone location, it will ask you to turn on GPS when you launch the app. In my test, it finds my location within 30 minutes in house. Really good job. However the weird thing is it sometimes says my speed is about some 20 meters per second even if I put my handset on the desk, and it pinpoints my location some 50 meters away.
Although it does not require cell towers or WiFi hotspots to determine your location, internet connection is needed to transmit your location data to their server. So if you do not always have WiFi connection, a data plan is necessary.
One thing worthies noting is that you can't track anyone freely unless this someone gives you the login details. This app is just designed to be used among family members or close friends. And generally it couldn't even be used to find your stolen device, someone simply has to disable GPS or internet connection to stop it from working correctly. And it lacks other features that an anti-theft app has, like lock the device, play a sound and wipe the data etc.
All in all, InstaMapper is a terrific location app, it runs on various platforms, and it can be used  for simple mobile tracking purpose. If you are serious about lost or stolen cell phone tracking, go get an anti-theft app.