Posted by
filed under
This blog is all about how to track down a cell phone and extend the battery life during that period of time to ensure your handset always stays on. I have developed a few tools to help people to fulfill that purpose, and now many people and companies have been using my tools for a long time, so I am not sure what people are looking for when they visit my small blog.
If you come here in search for information on how cell phone tracking works and various mobile tracking technologies, then check out my posts and tools. If you want to know how many and what apps work on your specific device, then I already have got many for you. Since iOS and Android dominates the mobile space, you will find most apps were, and are designed for the two platforms. However, I stopped introducing new apps as almost all of them are quite similar to others mentioned in this blog. If you still need different phone tracking apps, head for Google Play or App Store.
This post will discuss how to track your iOS or Android device, and what to do if you could not recover your handset, and finally how to track others phone. Due to the reason mentioned earlier, this post will only involve iOS and Android since most people use these two systems.
How to track iOS or Android device
To begin with, I will introduce the things you need to do if you wanna track your mobile device. In fact there is not much you can do if you own an Android device. Unlike Apple, Google does not take as strong anti-theft actions in Android as iOS. Google did not even have official location tracking measures in place until last August, four years after the announcement of Find My iPhone. Even so, the so called Android Device Manager is still inferior to the latter.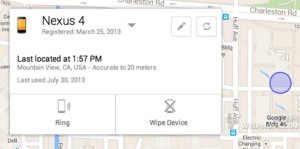 So here is the thing. If you have an Android phone, you may already have seen and used Android Device Manager depending on when you got your phone and its brand. If you bought your phone earlier than August 2013 and did not receive any system update later, the chances are good you do not have it. Besides, some Android OEMs may remove this feature in their phones. So even you get your phone after that time, it does not mean you have it on your device. To verify that, simply go to settings-> Google settings, if you see Android Device Manager sits there, then yes you have it. Otherwise, no. However you can now download it as a stand-alone app from Google Play. Now sign in with your Gmail account and check remotely locate this device and allow remote factory reset and you are all set. In addition, some Android OEMs have their own tracking services, for example, Samsung. But that's beside the point.
It's much simpler when it comes to iOS as long as you have up-to-date firmware. However iOS devices offer many more. More features, more secure options. In order for Find My iPhone to work, go to settings-> iCloud-> Find My iPhone and turn it on. Of course you need to sign in with your Apple ID. Once you turn on Find My iPhone, activation lock is automatically enabled which gives you further protection from thieves. Activation lock was designed to prevent anyone from accessing your iPhone/iPad and turning off Find My iPhone. Even if the thief performs a factory reset or a firmware update (DFU), he or she will be asked for your Apple ID and password at launh to use your device. In a word, the phone will be totally useless without the correct Apple ID and password.
If you have Android Device Manager enabled on your Android phone or Find My iPhone enabled on your iOS device, then proceed to the next step. Since both services have a lot in common, I will try to explain the steps as briefly as possible.
If you have an Android device, there's not much to do. If you have set a pattern or finger scanner in place, the thief will not be able to use your phone immediately, but its another story if you use swipe to unlock your phone. Go immediately to http://www.android.com/devicemanager, login with your account information and you should be able to view the location of your phone. If you do locate it, you can ring your phone or call your number if it's somewhere near you. Otherwise you should definitely wipe your data remotely since the thief could either turn it down or do a factory reset or flash a new ROM. It all depends on how well the thief knows about your phone and system.
However I think a better option would offer some money in exchange for a return. You should also report the theft to a policeman and your carrier.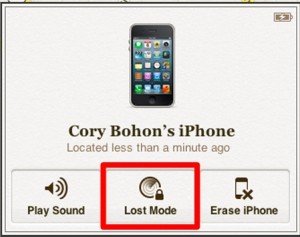 If you have iPhone, then navigate to http://www.icloud.com/ from any device and sign in using your Apple ID and password. You can also locate your missing device from any other iOS device using Find My iPhone app. Once you are there, the first thing to do is put your phone in lost mode. You will be able to send and display a message on the missing phone, such as this iPhone has been lost and locked, call me at xxx-xx-xxx. There aren't much the thief can do except return the phone or switch it off. However the location information will be uploaded to Apple server and displayed on Apple Map whenever the thief boots it. Apple will send you a mail when that location is updated. So if someone's iPhone goes missing, he needs to check his Email or iCloud account from time to time.
What to do if you could not recover your handset
Someone might get their phone back, but most people fail for various reasons. If you have tried very hard and still do not see any hope, then its time to wipe the data. Both iOS and Android have the same function and can be done with one tap.
Here I will discuss a few things to increase the chance of getting the missing phone back. This is especially important for iOS devices as there are more you can do. I sum it up in three points.
1. Use two-step verification and write down your Apple ID, passcode and recovery key. In the meantime, you should also keep your package and information like IMEI number, SN number etc. Do not save it on your PC or share on the internet.
2. Enable activation lock.
3. Enable family sharing etc.
For Android device owners, the best solution is find and install some so called stealth tracking apps. I once wrote about Plan B and said a few features a good phone tracking app should include and Apple has done exactly that. If you can find such an Android app, then go get it.
How to track others device
Finally I will go on talk about how to track others phone. Some people might want to track other people for whatever reason. In fact there isn't much you can do until you have physical access to their cell phone or you are a popular ROM developer. Another trick is tell people you can repair their devces. At last, you can also persuade someone to download and install your disguised tracking app, but you still need a script to create the parameters. If you have the money, then things are much easier, just ask someone to develop a custom made app with all parameters set.
If you have any thoughts about tracking others device, then let me know on my Facebook page.