Posted by
filed under
In order to determine the location of your cell phone using cell towers, you need to know the LAC (Location Area Code) and Cell ID of the cell tower your cell phone is currently connected to. Then you can enter the LAC, Cell ID and other info to locate your handset location, this is how cell tower based locating works. Google Maps and other mobile locating apps use cell tower/base station data to determine the location of cell phone as well.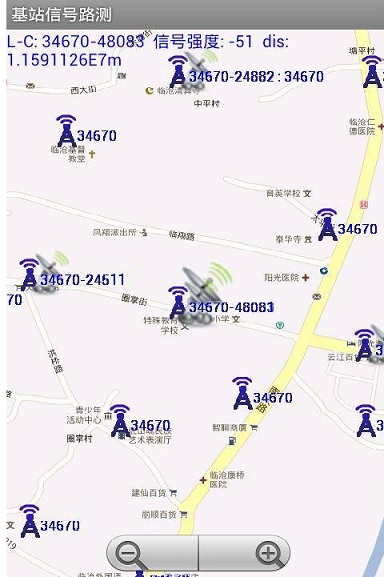 Although you can always enter test mode/field test to get these data, it's not suitable for normal users, so we can try some cell phone apps to help us.
Symbian
As the world's most used mobile OS, Symbian mobile devices are very popular here; I myself own two Symbian Smartphones. As a cell phone to make calls and send SMS, Nokia keyboard cell phone is a great success, that's why lots of people use Nokia mobile devices.
CellTrack. Cell track is a little app running on Symbian to collect the CellID, LAC, Mobile Country Code/Network Code, signal strength and battery usage data of your mobile device.
Fieldtest. Fieldtest (just Google it) can do what Cell Tracker can do for you, at the same time, it shows available cell towers around, if you find a cell tower of good signal quality, you can lock it and enjoy better cell reception. But keep in mind that you need to unlock when you move to another place, otherwise you may find your handset receives signal.
Viking informatics.  Viking informatics, in fact, a piece of web-based mobile tracking app for Symbian devices (you can set up a server to receive data with supplied files). In the meantime, it can be used to get a variety of data such as IMEI, CellID and LAC etc.
Android
Net Monitor. Net Monitor is based on Android and it can help obtain the name of your carrier, signal type (for example EDGE), CellID, LAC and signal strength.
Cell Finder. Please it's not cell phone finder, but it does what it means. Cell finder can show the cell tower/base station information your handset is connected to and other neighboring cell towers. It can also acquire the GPS coordinates of your handset location.
Cell Tower Locator. Cell Tower Locator is another Android based app derived from Cell Finder. It shows the MCC, MNC, Cell ID, LAC and signal strength in dBm. Also GPS information are displayed.
GSM signal monitoring. This app promises neighboring cell towers information. Unfortunately I only see the cell tower my handset is connected to. You can download it here.
There's many more, search on Google Play for yourself.
iPhone
Well for iPhone OS 4.0 (not included) earlier, you can use the test mode/Field test to get these data. Type *3001#12345#* when it's standby, you can enter Field test and get the MCC, MNC, Cell ID and LAC.
iPhone Signal. It's said that this app was developed by Dev-Team, you can buy from Cydia, and it works on iOS 4 as well. You can get the MCC, MNC, CellID and LAC with this app as well. What's more, it shows on maps the cell tower you connected to, the available and unavailable cell towers as well, which is interesting as you can see the density of the cell towers. Always remember, you can get more accurate location data with more cell towers. However I have not tried it as I do not own an iPhone.
After you find the Cell ID, LAC, MCC and MNC, try my GSM tracker.
Update, if you do not want to install additional apps on your handset, there is another way to find Cell ID and LAC, check this out.