Posted by
filed under
I have not written a thing here since my previous post, which dates back to last Aug. The reason is that with the quick advancement of Smartphones, it enters its mature phase and nothing thrilling is worth mentioning, and I have already said what I want to say about cell phone tracking.
But I am not being lazy. As a matter of fact, I have been thinking that, although I provide an interface to people to find locations of cell towers, I should try my best to get more out of over 60 millions of cell phone towers. After a few days' research and hard work, I decided to create another tool to help people find the nearest base stations to them. And now, I think it's time to make its debut although it's only partially ready. By partially I mean it's only fully ready for US visitors, and I will get more language based versions live for countries and regions.
Let me make a brief introduction first. This tool, namely Profone cell tower map allows you to find all kinds of cell sites within the range of 2 miles of any coordinate you give. I also get a list of all 52 states of USA and their cities and places. You can select wherever you want to search.
If you are interested, go to http://www.profonetracker.com/celltowermap/, and you will be presented with the state list, from where you can find its cities and places by clicking any link. Once you get to the city page, click on any city name or place and it will lead you to the search page.
On the search result page, you will be able to find all kinds of cell site within the range of 2 miles, 2G / 3G / 4G / 5G base stations. Each icon represent a cell site. Click on any of them and a window will appear which contains its operator and bands. If operators and bands are not found, it will simply show unregistered cell site with its MNC. If you do not find as many cell towers, just enter your desired and coordinates and hit search. By the way, if you do not know the coordinates of places, just navigate the map and left click on any place, the input text box below the map will show its coordinates. You can do a search there too.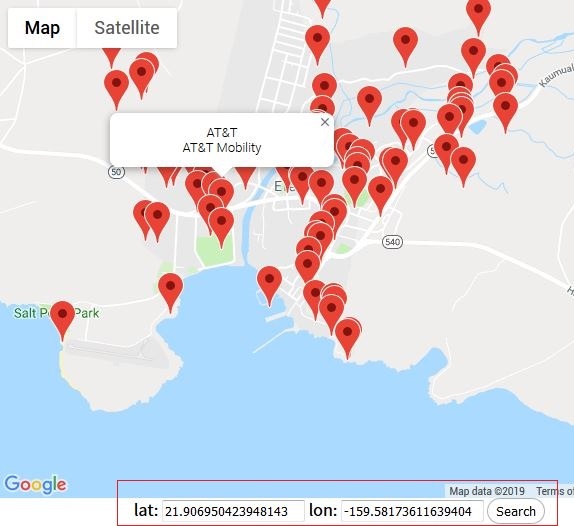 I have been struggling with finding operators and bands for unregistered cell sites, but I do not have a clue yet.
If you are not from US and still want to try it, well visit the final search tool here and find the place you want to search on the map and hit search, it will also give you results, very easy. More versions will get online upon requests.
Update, French and German version online.