Posted by
filed under
US carrier Verizon Wireless offers customers a unique mobile phone locating service family locator (formerly known as Chaperone). According to their website, their cell phone locator is a simple, secure service that allows you to track your family members' handset from your Verizon Wireless device or the web.
Locate your family. Verizon Wireless provides with you the detailed location and address of your family members on a map, so you will find if your kid is where he/she is supposed to be, like at school or on the way home. You will also know if your kid is where he/she shouldn't appear. If you have more than one child, it can track all of them at the same time, which is very convenient. You also receive turn-by-turn driving directions via VZNavigator.
Receive arrival & departure updates. Verizon Wireless also can send updates to multiple members when your children arrive or leave certain places predefined by you such as school or hotel. If you do not receive the updates when your children should reach school, you need to check their whereabouts.
Set scheduled updates. Verizon Wireless sends to multiple members scheduled updates verifying your family members' locations; you just have to set scheduling entries. This is useful when you need to know the whereabouts of your kids at certain times like recurring events or one-time events.
In order to use their locating service, you need a Family SharePlan account, at least one locator line and one locatee line. In addition, you need to download and install the family locator application to each mobile device you want to locate. Then you can start to pinpoint the cell phone locations from their website, or http://fl.vzw.com from your handset.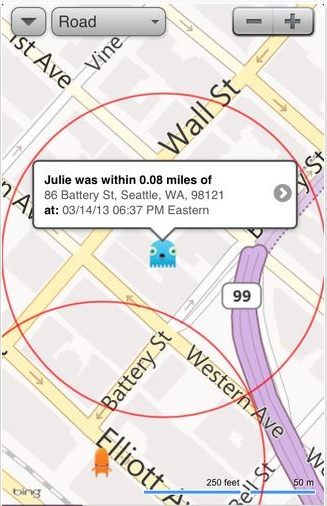 According to Verizon Wireless, family locator only supports LG and Samsung cell phones at the moment. As to the price, it is $9.99 monthly access per line.
In addition to Family Locator, Verizon has another separate service called Usage Allowance at $4.99 a month. You can use it to set a budget on your kids spending, once they are close to the allowance, you receive free text alerts. You can also put a time control on your kids like night and school hours etc. However you can reach them even if they are out of the allowance as your number is trusted.