Posted by
filed under
US carrier Verizon Wireless offers customers a unique mobile phone locating service smart family (formerly known as family locator, subscribers of which have all been switched to the new service). According to their website, their cell phone locator is a simple, secure service that allows you to track your family members' handset from your Android or iOS app.
The new service has many interesting functions, however I here only introduce the location related ones. If you want to know otherwise, find more here.
Locate your family (Pro only). Verizon Wireless provides with you the detailed location and address of your children on a map, so you will find if your kid is where he/she is supposed to be, like at school or on the way home.  There are two ways to locate your kids, network based, or app based. The later requires you to install Smart Family Companion app on your kids' handset and pair with it. The differences are that network location is less accurate, and app provide more precise position and more features such as content filter, stop internet access and pick me up etc.
Receive arrival & departure updates. Verizon Wireless also can send updates to multiple members when your children arrive or leave certain places predefined by you such as school or hotel. If you do not receive the updates when your children should reach school, you need to check their whereabouts.
Set scheduled updates. Verizon Wireless sends to multiple members scheduled updates verifying your family members' locations; you just have to set scheduling entries. This is useful when you need to know the whereabouts of your kids at certain times like recurring events or one-time events.
In order to use their location service, you need to upgrade to their Premium service which cost an extra $5 every month , and pair the Verizon Smart Family app on your Smartphone with the Smart Family Companion app on your kids' devices.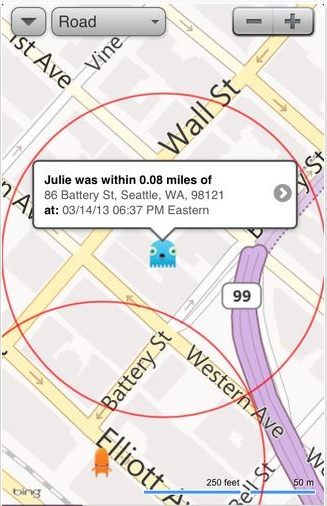 I have found a review on Apple store saying that the location given is not that accurate. Well this could definitely happen. Although the location data are obtained from the handset via API, with or without GPS turned on will make a huge difference. If GPS is on, apps on the very same phone should have more or less the same location provided that kids stand still. When GPS is off, the location given by different apps could vary wildly. For example, Apple has its own location service and they could be improving it from time to time.
The location services that you pay extra for is not accurate. Compared to the "Find Friends" app, which shows my child's EXACT location, this Verizon app shows their location a few hundred feet or a mile away for their actual location (differs daily). I have yet to see it place their location accurately in the past month or so since upgrading to this service.
-Helloreader2468
I personally think you should install and pair the companion app, it gives way more precise locations, not to mention other important features come with the app. According to my own experiences, GPS always yields mo reliable locations than WiFi and cell sites. My daughter has a smart watch and I pair my app with it, I have done a few tests and find out that in most cases her watch give me very accurate locations.